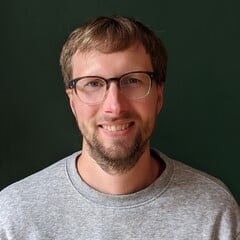 John Griffiths
Lead Environment Artist @ Cloud Imperium Games
Manchester, United Kingdom
Summary
I am a proactive, self-motivated, and versatile Lead Artist with over ten years of combined CG experience. I have worked on a variety of projects from animated short films and advertisements, to video games and Virtual Reality productions.
I thoroughly enjoy creating rich, immersive, and beautiful worlds. Every environment I create has an important and unique character that underpins the style and success of the final production. However, I also understand that a good environment should never distract the audience or player from the plot or goal.
I am very skilled in many 3D and 2D production packages and have considerable strength in environment art and the areas that it encompasses. I have managed, directed, and supervised other artists and possess an in-depth knowledge of production pipelines.
Skills
Pre-viz
Look Development
Art Direction
Project Management
Project Organisation
Asset creation
Asset Modularity
3D Modeling
Digital Sculpting
UV Mapping
Shading
PBR
PBR Texturing
World Building
Set Dressing
Lighting
Composition
Optimisation
Software proficiency
Productions
Video Game

LEGO Ninjago Movie

Year

2017

Role

Environment Artist

Company

TT Fusion

Video Game

LEGO Jurassic World

Year

2015

Role

Environment Artist

Company

TT Fusion

Movie

The Good, The Bad and a Horse

Year

2013

Role

Head of Assets / 3D Artist

Company

Red Star 3D

Movie

20,000 Leagues Under the Sea

Year

2012

Role

Head of Assets / 3D Artist

Company

Red Star 3D

Movie

Robin Hood 4D

Year

2011

Role

3D Artist

Company

Red Star 3D

Movie

Sleighride 4D

Year

2010

Role

3D Artist

Company

Red Star 3D

Movie

Dracula 4D

Year

2010

Role

3D Artist

Company

Red Star 3D
Experience
Lead Environment Artist at Cloud Imperium Games

Manchester, United Kingdom

Lead Artist at Fabrik Games

Manchester, United Kingdom

February 2020 - June 2021

● Lead and supported an art team of six, which included character, environment, prop,

VFX, lighting and technical artists

● Creation of AAA production artwork through all stages of asset and level production

● Established new projects, file organisation, naming conventions, and workflows

● Established lighting art direction on current project (NDA)

● Established art direction on new IPs

● Provided art direction to the team where necessary

● Pushed project quality through regular reviews and annotated feedback

● Created and maintained project documentation

● Worked within a fast paced environment

● Worked collaboratively with other disciplines to problem solve and deliver assets

● Liaised with and managed external partners (all areas of art)

● Sprint planned, asset scheduled and monitored team scope/capacity

● Allocated workload/priorities effectively throughout the art team

● Assisted team members with personal development and career pathways

● Held regular 121's with each team member

● Mentored colleagues on an individual basis

● Conducted end of probations - experience of passing, extending and discontinuing

employment

● Gained experience in conflict management and resolution

● Worked with HR to create job descriptions and art tests

● Conducted interviews and assessed art tests, giving feedback to each candidate

● Liaised with University of Bolton, reviewing students work and portfolios to assist

them in becoming more employable when they graduate


Lead/Principal Artist at Evidential

Manchester, United Kingdom

● Lead and managed a small art team in the creation of a Virtual Reality training

platform

● Provided art direction and set the visual benchmark for the team

● Delivered and responsible for all aspects of environment artwork including modelling,

texturing, shading, set dressing and lighting

● Created art pipeline and workflows

● Created and maintained project documentation

● Worked collaboratively with other disciplines

● Produced estimates to meet scheduling needs and planning requirements

● Assisted with artist training and their personal career development

Environment Artist at TT Fusion

Manchester, United Kingdom

September 2014 - May 2018

● Over three years experience working on AAA video game software titles

● Contributed to the production of 5 AAA released games

● Responsible for the production of all art assets across multiple story levels and hub

areas per game

● Implemented PBR shading and texturing

● Experience with real-time and baked lighting

● Experience with console optimisation techniques including LODs, collision

generation, and bug fixing

● Delivered games on a variety of consoles

Head of Assets at Red Star 3D

Sheffield, United Kingdom

November 2010 - August 2014

● Over three years experience managing, directing and supervising a team of artists

while remaining hands on in the creation of 3D art

● Responsible for the creation of a range of environment, prop and vehicle assets

across a variety of projects

● Developed excellent skills in 3D modelling, shading, texturing and set dressing

● Gained ability to adapt to new art styles and maintain visual consistency throughout

production

● Proven record of learning new software and pipelines quickly

● Worked within a fast paced environment

● Worked collaboratively with other disciplines to problem solve and deliver assets

● Acquired experience in stereoscopic 3D across a variety of short films and ride

simulations

Digital Artist at Red Star 3D

Sheffield, United Kingdom

January 2010 - November 2010

Designing, modelling and texturing of environment and prop assets for use in 4D short film productions